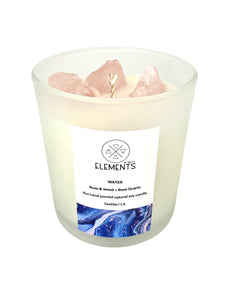 This beautiful WATER Healing Candle is soy based, created with Rose and Wood essential oils. Infused with Rose Quartz for harmony.
Scent Profile: top notes of cloves and bergamot, middle notes of damascus rose, saffron and violet, back notes of agarwood, praline and sandalwood. 
Welcome this loving scent into your space to create an energy of compassion and warmth.
Connected to the astrological water signs: Cancer - Pisces - Scorpio 
8 ounce jars.