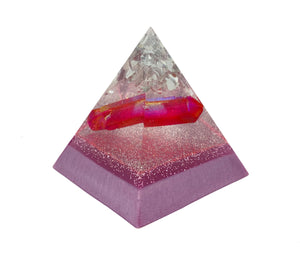 Elements by Natty Abundance Amplifier is a handmade resin pyramid made by Natalie with Red Aura Quartz. 
Whether your soul mate is present or you are in search for one this pyramid will attract passion, depth, kindness, peace, friendship and playful energy.
Red Aura Quartz aka Ruby Aura Quartz brings in love, vitality, passion, positive energy and confidence. 
Charged under a full moon for maximum healing benefits. 
2.5 inches