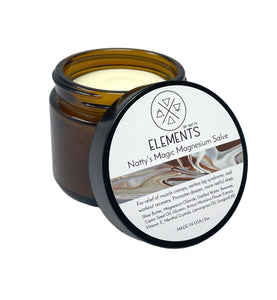 Magnesium Salve:
What is it: For relief of muscle cramps, restless leg syndrome, and workout recovery. Promotes deeper, more restful sleep.
Ingredient Callouts: This product is cruelty-free, Sulfate-Free, Paraben-Free, and always Handmade.
How to Use:
You can apply magnesium salve anywhere on the body, avoiding contact with eyes and broken or damaged skin. Simply apply to the area you wish to target and massage it into the skin.
Key Ingredients:
Magnesium Chloride: Magnesium can be more optimally absorbed into the body via skin than supplements.
Arnica: An alpine herb that tones, tingles, and conditions the skin. A prized herb that helps to soothe and restore when massaged into the skin.