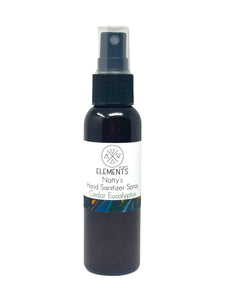 Perfectly clean hands are just a spray away with Natty's Hand Sanitizer Spray infused with Cedar and Eucalyptus essential oils!
Kills 99.9 percent of common germs and bacteria with super-effective 70 percent ethyl alcohol.
The easiest and most important step you can take to keep your hands clean when soap and water are not available.
A special blend of moisturizers and skin conditioning agents that leave your hands feeling moisturized, refreshed, and thoroughly clean. When applied to hands it evaporates in seconds.
Ingredient Callouts: This product is vegan, cruelty-free, Sulfate-Free, Paraben-Free, and always Handmade.