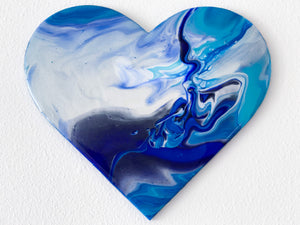 ~Best Memories~ heart is part of the - Spread the Love limited series. Inspired by happy thoughts. The premium acrylic paint was poured on Baltic Birch Plywood and finished with resin. Add a beautiful pop of color to your kitchen, living room, or bedroom. Item can be used as a coaster, jewelry or candle holder. The resin finish makes it extra durable! Purchase comes with attachments for hanging. 
Benefits of blue:
Increases calmness, peace, honesty, kindness, truth, depth and devotion. Blue is a wonderful color to help you effectively communicate. It's great for protection and support.
Benefits of white:
The light of cosmic consciousness. Peace and humility. White evokes visions, messages from the spirit worlds through dreams and opens the doors for healing to take place. White is calm, gentle and pure.
Acrylic on Baltic Birch Plywood with resin finish.
12 inches wide and 1/4 inches thick.