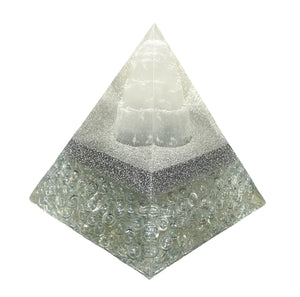 This handmade resin Intensified Clarity Amplifier Pyramid is infused with a selenite tower that promotes clarity, peace and calm. Selenite is also a powerful space cleanser and helps you access your intuition. 
The glass spheres amplify the holistic purifying properties of the selenite tower and evokes clarity of thought. 
Changed under a full moon for maximum healing benefits
6 x 7.5"