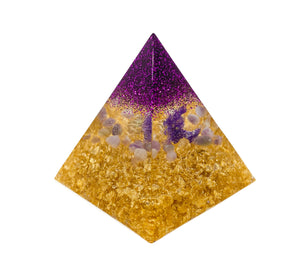 Elements by Natty Inner Strength Amplifier is a handmade resin pyramid made by Natalie with amethyst and forgetme-not flowers.  
Charged under a full moon for maximum healing benefits. This beautiful addition to your space is created to aid in spiritual strength. 
The forgetme-not flowers is very therapeutic for any feelings of sadness or loss and amethyst brings about inner strength and dissolves negative feelings. 
2.5 inches.