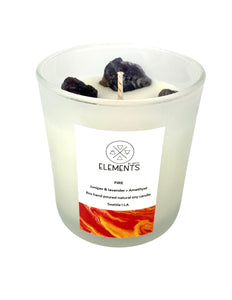 This beautiful FIRE Healing Candle is soy based, created with Juniper and Lavender essential oils. Infused with Amethyst for clarity.
Scent Profile: top notes of juniper nuts, lemon, verbena, tangerine, middle notes of lavender, patchouli and amber and back notes of sandalwood.
Welcome this calming scent into your space to create a deep sense of peace and clarity.
Connected to the astrological fire signs: Aries, Leo, Sagittarius
8 ounce jar.