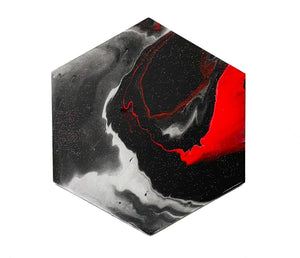 Inspired by learning through past experiences. The black represents inner and outer strength, the red represents change, the silver and red glitter represent always seeing experiences through a positive lens of growth. 
This piece carries strong energy.
Benefits of black:
A powerful blocker of all negative energies. Black is great for protection, strength, and stability. Black allows you to channel inner power and is a great color for transitions and rebirth.  
Benefits of red:
Gives you inner strength, fills you with passion and courage, grounding, brings stability, energy booster, and attracts healthy love. Red is an action color, so it's a great reminder to go after what sets your soul on fire and believe in yourself. 
Benefits of silver:
Silver is solid, stable, quiet and reserved. It's fantastic for focus, intellect, knowledge and wisdom. It's a great neutralizer and has soothing energy. The color of emotional control and no drama.
12x12 width and height.
1/2 inch thick.
Acrylic on Baltic Birch Plywood with fine silver and red glitter resin finish.
Versatile hexagon. Can be wall art, used as a coasted, jewelry or crystal holder. 
Purchase comes with attachments for hanging.