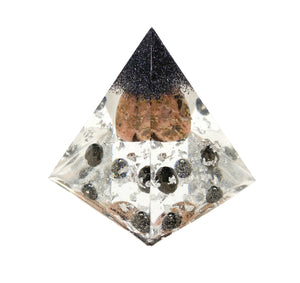 Elements by Natty Balance Amplifier is a handmade resin pyramid made by Natalie with the healing stone rhodonite and black crystals.
Charged under a full moon for maximum healing benefits. This beautiful addition to your space is created to align your heart chakra for compassion and open-hearted energy.
Rhodonite is excellent for bringing emotional balance into your life while also harmonizing feelings and bringing calm energy into your heart. 
The black crystals represent the four elements: Earth, Air, Water, Fire. All four crystals are placed in opposite corners which amplify yin (feminine) and yang (masculine) energy.
2.5 inches