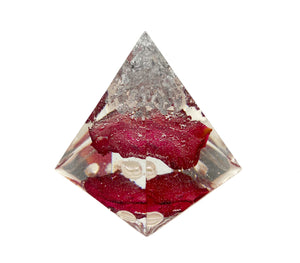 Elements by Natty Passion Amplifier is a handmade resin pyramid made by Natalie with red rose petals, silver leaf flakes and freshwater pearls.
Charged under a full moon for maximum healing benefits. This beautiful addition to your space is created to align your root and crown chakra for grounding and universal consciousness. 
The rose petals together with the freshwater pearls harmonize fire and water energy to create a powerful amplifier of passion, confidence and loving energy. 
2.5 inches.