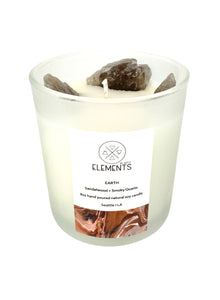 This beautiful EARTH Healing Candle is soy based, created with Sandalwood essential oil. Infused with Smoky Quartz for grounding.
Scent Profile:  top notes of round grapefruit and bergamot, middle notes of ginger, sandalwood, vanilla, and coriander, bottom notes of cypress and ambergris.
Welcome this grounding scent into your space to create a deep sense of connection and depth around you.
Connected to the astrological earth signs: Taurus, Capricorn, Virgo
8 ounce jars.