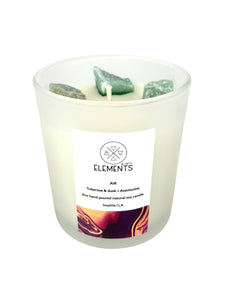 This beautiful AIR Healing Candle is soy based, created with Tuberose and Dusk essential oils. Infused with Aventurine for positivity. 
Scent Profile: top notes of peaches, violet leaves, middles notes of orange blossom, tuberose and rose, back notes of ambergris and musk. 
Welcome this energizing scent into your space to create a vibrational frequency of liberation and inspiration. 
Connected to the astrological air signs: Aquarius - Libra - Gemini 
8 ounce jars.