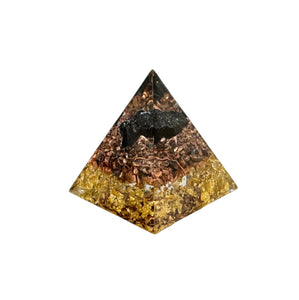 Orgone Amplifier Pyramid 
Infused with Elite Shungite, Copper and Gold Flakes.
Elite Shungite neutralizes electromagnetic radiation and shields you from negative energy.
Copper brings harmony to all aspects of your life. 
Gold flakes reduce tension, stress and promote happiness.
This Orgone Amplifier Pyramid balances the energies in your home. It is also a powerful vessel that promotes physical and spiritual health and breakthroughs.
2.5" inches